News/Announcements
ABRET Scholarships Now Available
ABRET Neurodiagnostic Credentialing and Accreditation is offering two scholarships quarterly for US and International candidates preparing to take an ABRET exam. These scholarships are for candidates with demonstrated financial need.
Posted: May 18, 2022
---
NA-CLTM April Exam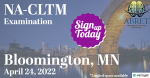 Register now for the upcoming NA-CLTM exam being held in Bloomington, MN on April 24, 2022.
Posted: January 14, 2022
---
ABRET President Earns FACHE
ABRET Neurodiagnostic Credentialing and Accreditation announces President, Rebecca Khozein has earned the FACHE credential from The American College of Healthcare Executives...
Posted: December 21, 2021
---
View All News and Announcements »
Careers
The career page allows employers and job seekers to post, view, and apply for positions throughout the United States!
ABRET Online Store
The ABRET Online Store features scrubs, credential certificates, digital badges and more!